May 1, 2005, Geschmozzel! at Camp Muir  
WA Cascades West Slopes South (Mt Rainier)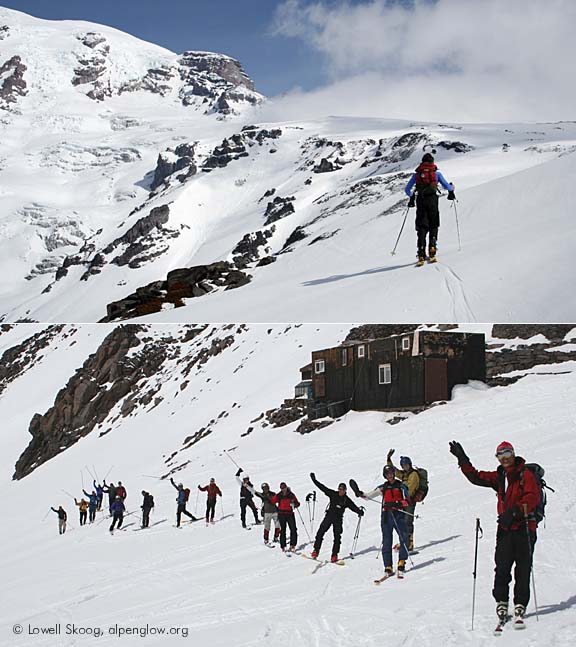 "All skiers on the Silver Skis program will use the simultaneous start. Skier Number-One will line up at the extreme left of the line looking down the slope.  Number-Two shall be immediately on his right and so on.  On the starting line competitors shall line up at least one yard apart."
So stated the instructions for the 1934 Silver Skis, the wildest ski race ever held in North America.  Having read about the aftermath of this one-of-a-kind race, we eighteen skiers lined up at Camp Muir this afternoon and gave each other a bit more than a yard of elbow room.  We were gathered at 10,000 feet on Mt Rainier on a finer day than any of us had dared to hope for.  
Tightening our boots at the Camp Muir shelter, we traded excuses. "I've hardly been downhill skiing at all this season," said one. "I don't know if I can even ski this without stopping, let alone race it," said another.  With butterflies swirling, we toed an imaginary line in the snow below the shelter and gave a final wave to the camera.  "Geschmozzel!" we cheered as one.  
Countdown.  "Ten, nine, eight, seven, six, five, four, three, two, one, BANG!" Without a real pistol, a hearty shout was the best signal the starter could make.  Skis hit the fall line. Earth jerked into motion.  With the world rushing up and a flurry of arms and legs accelerating beside me, I felt like a snowball swept up in an avalanche.  I tried to imagine what it must have been like in 1934, with over sixty skiers riding a wave of leather and hickory.  Out of the corner of my eye, I could see climbers on the hiking trail suddenly look up, as if to mouth, "What on
earth
..."  
With narrow, skittish touring skis, I took it easy.  Ahead the gung-ho guys were pulling away in a tuck.  Some made not a single turn between Camp Muir and Pebble Creek.  The snow could hardly have been better--soft and cushiony but not grabby.  After our meager snow year, my ski legs were in the rubbery condition of November, but the snow was my savior.  I weaved gently back and forth, watching out for skiers doing the same thing on either side.  Anvil Rock swept by and soon McClure Rock was gone.  Near Pebble Creek I passed some wreckage in a blur without recognizing it.  I later learned that my brother Carl had flown off a wind ridge, nearly landing on Jason, and they both had crashed.  Carl got the worst of it, but Jason was soon underway again.  
At Panorama Point we each took different routes through the thin, rock studded snow.  A few of the leaders made wrong turns here, enabling those of us who actually turned on the upper snowfield to catch up.  Near Alta Vista, I snuck up on Jason and Josh on the boot packed trail--old age and treachery nearly (but not quite) overcoming youth and strength.  We poled furiously, see-sawing our positions as we alternately hit slippery and sticky spots.  We reached the parking lot within feet of each other, with Jason and Josh just ahead of me and Bill just behind. Matt and Jan were already there, and over the next twenty to thirty minutes the rest of our crew trickled in.  Everyone was safe and sound and everyone finished with a smile.  
With all the excitement, I completely forgot to run my stopwatch. Jan timed himself at nine and a quarter minutes and estimated that Matt, who arrived first, made the run in about eight and a half.  Bill said that he, I and the twins finished around ten minutes, forty seconds.  I was thrilled to have skied as fast as the 1934 Silver Skis winner, Don Fraser (10:49), yet humbled to think of his feat in much tougher conditions, with much more primitive gear.  
We swapped stories and laughed, sitting on the pavement at the edge of the parking log.  A visitor from Chicago took a group picture, and like a saint he patiently repeated the process with the dozen cameras we pushed in front of him.  Finally we drove to the park entrance and stopped for burgers at the Copper Creek Inn.  Before we finished eating it started to rain--buckets!  A perfect ending to a perfect day.  
For previous discussion of this trip see the following threads:    
http://www.turns-all-year.com/cgi-bin/yabb/YaBB.pl?board=ha3;action=display;num=1114061205    
http://www.turns-all-year.com/cgi-bin/yabb/YaBB.pl?board=ha3;action=display;num=1114450199