July 2, 2011, Mt Shuksan via Mt Baker
WA Cascades West Slopes North (Mt Baker)
EDITOR'S NOTE: UPDATED PHOTO LINKS JULY 2022, AND ADDED TWO NEW VIDEO LINKS AT BOTTOM.
Last Friday Gregg and I skied Baker and Shuksan in a single 26 hour push. On Wednesday I fell asleep waiting for a light to turn green on Aurora.

The before shot (and yes, Gregg's that tall and I'm that short):


The trip actually began three weeks ago when a group of us started up the Squak at midnight. (http://www.turns-all-year.com/skiing_snowboarding/trip_reports/index.php?topic=21367.0) This time, despite our efforts to entice others, Gregg and I found ourselves alone at the Heliotrope trailhead with a purified plan. Leave at 3 pm, climb the C-D, ski the Park, sleep an hour or two at Lasiocarpa ridge, climb the Fisher Chimneys, ski the Sulphide. We opted not to shuttle vehicles, partly out of laziness, partly out respect for the improbability of us actually getting to where we intended.

As always, the skin up Baker took my breath away on more than one occasion. The late afternoon sky blanketed my nerves in calm. Sun shone and clouds drifted as Gregg and I skinned upwards. We took breaks when we needed, talked when we wanted, and zoned out in our respective appreciation for the joy of skinning.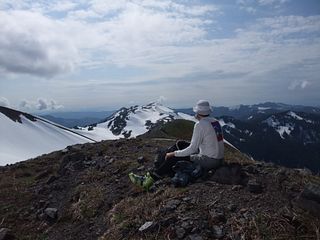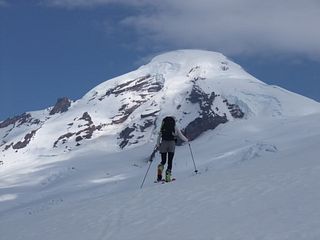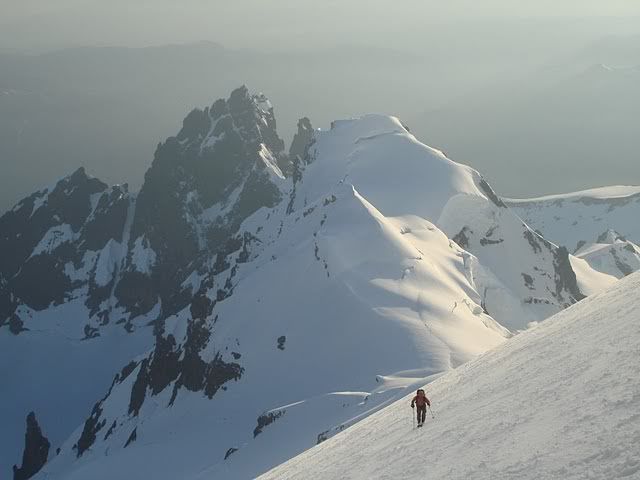 photo by Gregg

We skinned to the summit (with ski crampons) in 5 1/2 hours. We weren't trying to go fast but I think we each were a bit nervous about skiing the Park at sundown. By the time we ripped our skins the wind had picked up and a light cloud had enveloped us. I'd been hoping for a few inches of fresh after the previous day's snowfall, but conditions were flat out firm. We skied the ridge climbers left of the Park Headwall and dropped into the Park when our sphincters relaxed enough to allow us to do so.


http://i1082.photobucket.com/albums/j372/ryan_lurie/Monika%20Traverse%20July%202%20%20%20%20%202011/DSCF6085.jpg" />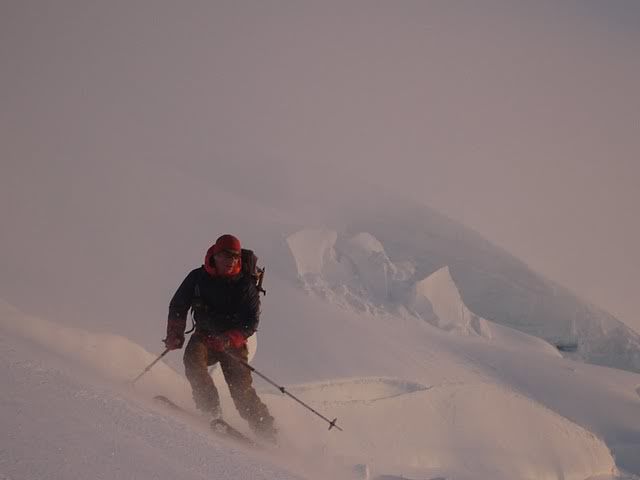 photo by Gregg

The slopes above the massive bergschrund got our attention but below that the Park skied great. For me. Poor Gregg had Dynafit Guides and couldn't stay on top of the crust. My K2 Backsides were money. I felt bad watching him tack downwards. If anybody wants to skin up the Park there's a nice track in place.

As we descended into darkness I let my eyes wander to Shuksan in the distance,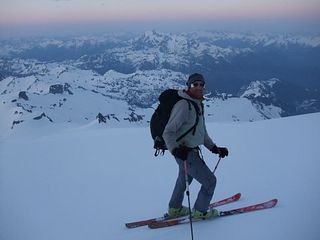 before settling into beautiful starlit skinning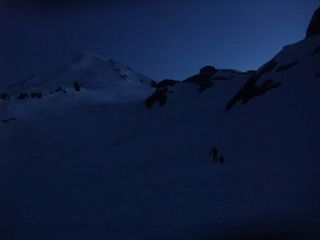 With the route fresh in our minds we made it to Lasiocarpa ridge by 11. It was a nice place to melt water, cook food and take a breather. We managed about an hour sleep before setting off again.



photo by Gregg

The stretch from Lasiocarpa to the base of the Fisher Chimneys proved challenging. Frozen suncups, steep sidehilling, sopping wet useless skins, and massive avy debris had me out of rythym, Plus, I realized below Lake Anne that I woefully underpacked on food. Whoops. Luckily Gregg brought enough extra to carry me. Including a container of margarine. Yum.

For the rest of the trip I couldn't stop looking back at from where we came. It never ceases to amaze me how much ground one can cover on skis, and how absorbing such travel can be. In a way, time stands still. Or simply doesn't matter. I remember reading Lowell's "Flight of the Ptarmigan" many years ago, and his expressing that skiing across a landscape can affect one's perception of it. The further we traveled the more absorbed I became in my immediate surroundings all the while my sense of what was immediate continued to grow.

Seeing Baker at sunrise brought new energy for the climb ahead



photo by Gregg

Neither Gregg nor I had ever climbed the Fisher Chimneys before, and in retrospect it might have been more efficient to ascend the White Salmon. But what fun would that have been? We'd have missed out on some more steep side hilling, fun scrambling, and steep snow.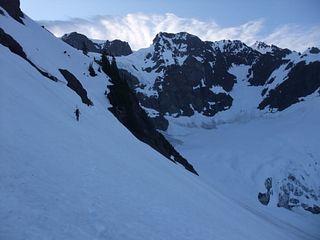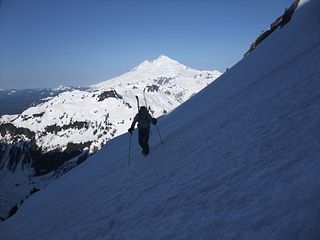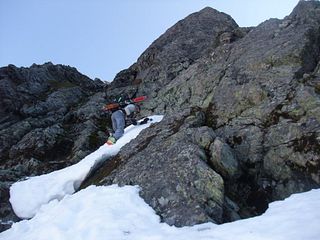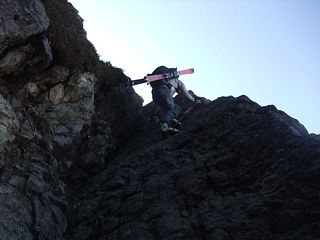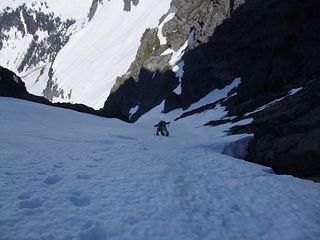 Cresting onto the White Salmon at hour 19 was spectacular: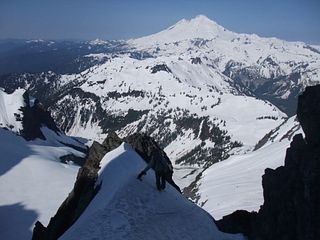 Gregg catching a Z in the minutes it took me to catch him:



The skin up Winnies slide and Hell's Highway offered enjoyable mindless continuity compared to the thought provoking scramble up the Chimneys. We each found our groove again and were excited to finally see the summit pyramid within reach: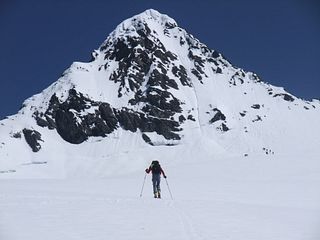 At first glance I thought I'd ski from the summit. But by the time we got to the pyramid's base an AAI group of 8 had entrenched themselves on the face. Conditions were extremely soft by this time and neither Gregg nor I felt like cutting wet slides onto a group of aspiring climbers. They seemed to have their hands full as it was. I'd be lying if I said a part of me regrets not having skied from the summit. I'd also be lying if I said I gave a damn at the time. As it was, Gregg and I ditched our packs and made quick work of our last climb.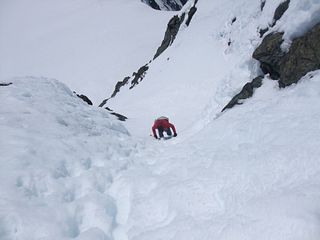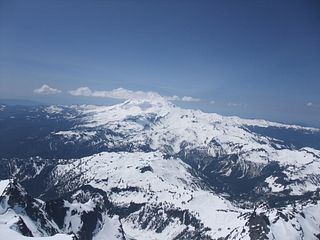 Before we had begun climbing the pyramid we ran into a party of two who had just finished and were heading down. Gregg immediately asked where they were from. Bellingham. Dayum. Too easy. Whatever thoughts Gregg and I might have had about skiing the White Salmon quickly evaporated in the presence of such low hanging fruit. We made fast work of the Sulphide so as not to keep our ride waiting. With a slight "detour" (read, overshooting of the trail followed by 40 minutes of schwacking to find said trail) we made it to the car at 5 pm. Thanks Annie and Steve for the ride! (And Mike for the ride back to my truck!)


The after shots: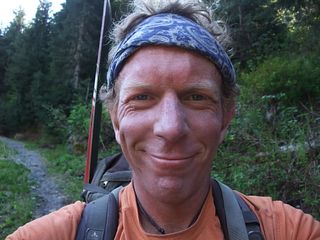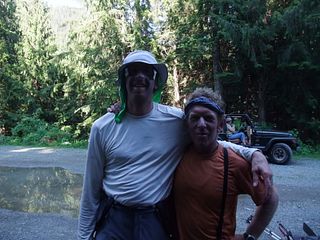 If folks aren't opposed, Gregg and I would like to call this extension of the Watson Traverse "The Monika Traverse", in honor of a woman we each loved in our own ways. As Gregg said in an email,

"Great skiing, spectacular scenery, rock climbing, steep snow climbing and two of the iconic summit peaks of the North Cascades. Perfect way to honor her."

R.I.P Beautiful- you would have loved this one......



Hell's Highway
After the vid, I pulled out the tub of golden vegetable fat along with my plastic spork. I carved a mouthful and savored it. I imagined a slow burning buttery fuel for my tired muscles. It had the consistency of ice cream. And wax. I took a second and third sporkful. Warm, butter flavored waxy ice cream. It was delicious.