April 22, 2011, Nisqually Ice Cliff
WA Cascades West Slopes South (Mt Rainier)
Tyler Jones, Andy Bond and I tried to take advantage of the recent high pressure to ski Rainier.
We left Paradise on Thursday at 3PM and hit Muir ridge at 6.  We were in a white out most of the way and nav was surprisingly tricky as seemingly all of the rocks were covered in snow, even Moon.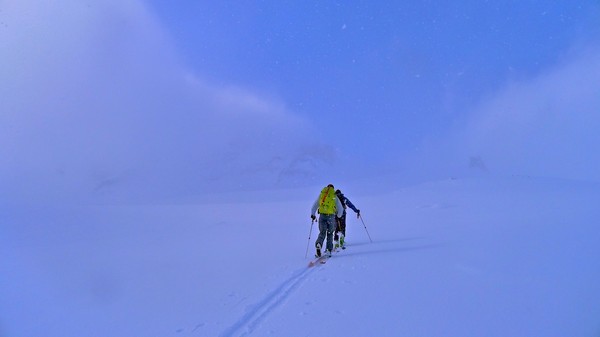 After sleeping in a bit we set out for Gib Ledges (8AM).  Two guys had started ahead of us so we had a fresh broken trail until we passed them right before the exit chute.  Gib was very filled-in and in great climbing condition.
Our plan was to head to Point Success to check on a route there and so we took a leftward traverse from the top of Gib.  Usually we would have had to navigate around several crevasses but the upper mountain is so filled in right now that we just walked straight to the saddle between Columbia Crest and Pt. Success.  We topped out on Success at noon.
The SW side of the mountain was completely rimed and we spent about and hour dinking around looking at stuff before heading back towards the upper Nisqually.
From Pt. Success to about 13,200 ft we skied smooth, wind-beat snow with patches of sastrugi.  After that it was full on no fall skiing above the cliff on knife hard 'snow' until we hit some decent stuff at about 11K.  The route was a pretty simple rightward traverse until we hit the exit chute.  The exit was skiers choice of two parallel lines that had filled in around a serac.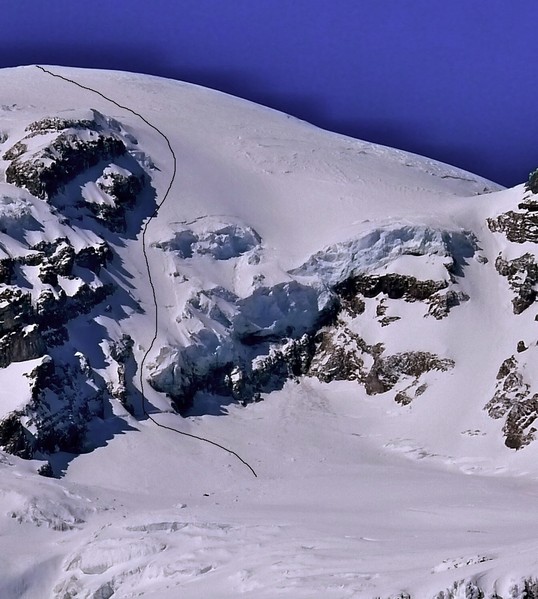 Once we were off the route we booked it out of the amphitheater and bended left off the Nisqually and onto the snow field.  The snow was great from here and it was nice to make some stress-free pow turns.  It was so good that we decided to drop back on the Nisqually and head for the bridge.
Lot's more pow skiing ensued followed by a bit of slush skiing before we got to the road (3:15PM).