January 19, 2012, Mt Garfield, Seattle, Night Ski
With unexpected and unforecast snowfall throughout Thursday afternoon in Seattle, about 1" of freshies had accumulated by evening atop the solid thick freezing rain crust formed overnight. The temperature had held steady on my deck at 30 °F all day, as the freezing rain had turned to sleet and then mixed with snow and then finally had become all snow for several hours.
The snowdepth at 100 ft elevation on the NE side of Queen Anne hill had topped 4" by evening, with the snowpack consisting of about 3" of yesterday's snow capped by 1/2" of solid ice topped with 1" of new snow.
An afternoon scouting trip around the neighborhood on foot during the height of the snowfall revealed potentially good ski conditions on Mount Garfield, the steep block of Garfield Street between Dexter and 8th Ave N. This is among the steeper city blocks on Queen Anne, with a vertical rise of about 70 ft and a gradient of over 20%. And very familiar to me, since I drive up it every time I return home from I-5 northbound, it feels almost shockingly steep to ascend in a vehicle. But also reasonably safe in terms of slide hazard, given the "DO NOT ENTER: SNOW CLOSURE" signs placed at both top and bottom (slide hazard == sliding cars or buses, not snow!). I would return in a few hours.
Skiing out the door of my condo building, just after 7pm with light snow still falling:
A brief skin along 8th Ave and up Crockett Street to Dexter Ave, then ripping the skins for the long skating descent 5 blocks south along the Dexter sidewalk to my destination. Mount Garfield primed for a ski descent:
Nice smooth snow atop the freezing rain crust on the upper half, but unfortunately on the lower part the smooth conditions of a few hours earlier had been damaged by several fresh tire tracks pulling out of a garage, making ruts through the crust. Definitely worth a second run though, so I put in a skin track up the sidewalk, just in case some vehicle suddenly came down the hill illegally. Looking back up Mount Garfield at my skin track after my second run:
Skinned back up to Dexter after the second run. Despite being a major arterial and key bike commuting route, Dexter Ave had apparently not seen the sharp end of a snowplow since the snowfall began 40 hours earlier. So much for Seattle's aggressive storm response -- a bike commuter rode by seconds after this photo was taken, riding in the tire ruts:
A long gentle skin back up the Dexter sidewalk brought me to my final descent, Mount Wheeler. A lot less steep than Garfield, but also open to vehicles -- a quick schuss straight down took care of it before any vehicles were seen.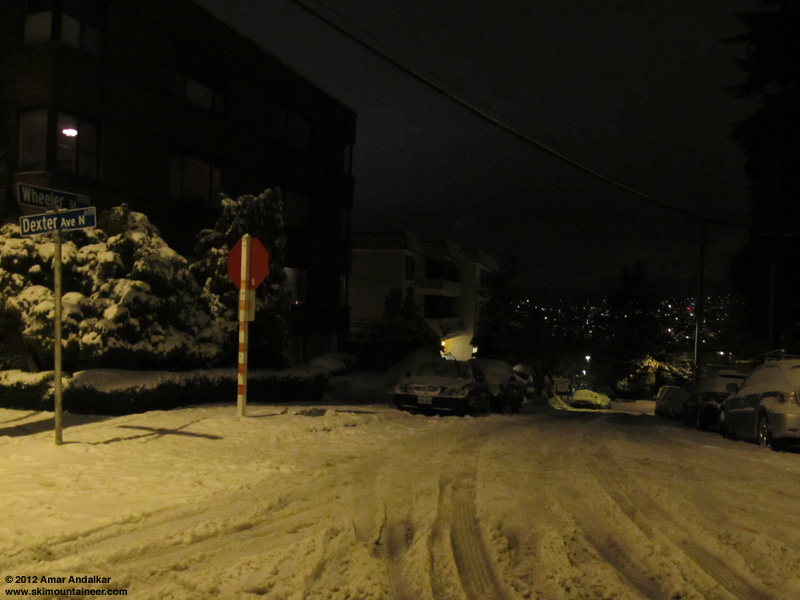 Ski tracks beside 8th Ave:
The snowfall had ended by the time I returned home just after 8pm, but luckily the expected warming had not arrived at all yet, with the temperature still pegged at 30 °F as it had been since morning. Complete door-to-door skiing:
An outstanding hour of skiing, covering about 1.5 miles of distance and 200 vert of ski descent. Nice to have several different passersby on foot voice their approval of my ski travel. And very sweet to finally get my first ever skiing in the city of Seattle, over 17 years after leaving the East Coast and settling in my adopted hometown.
---
Postscript: This ski trip was undertaken in the nick of time, as temperatures began to warm quickly later in the evening, reaching 33 °F on my deck by midnight and 36 °F by 7am. By 8:30am, the sun was shining and the sound of dripping water was everywhere:
The once-lofty Queen Anne snowpack was quickly consolidating and diminishing by the minute:
By 9:30am, the rain had arrived, the next incoming system promising to be much warmer and wetter than Seattle's two-day snow-and-ice storm.