May 18, 2009, Chinook Pass Pre-Opening
WA Cascades West Slopes South (Mt Rainier)
Kodiak snow blower below Chinook Pass.
---
On May 18, John Stimberis (Stimbuck) invited me to observe his team carrying out avalanche control work above the Chinook Pass highway.  Since its completion in the early 1930s, Chinook Pass has been cleared each spring by maintenance crews using heavy equipment.  The steep slopes above the road are beyond the reach of the road-bound crews, and snow conditions on those slopes are out of their control.  During the first 50 years of this program, there were enough close calls during the clearing process and after the highway opened that in the early 1980s the Washington State Department of Transportation (WSDOT) decided to apply avalanche control crews to the problem.
In 1983, Craig Wilbour and others from the WSDOT Snoqualmie Pass avalanche forecasting team began assisting highway maintenance crews on the Chinook Pass opening. Initially, Wilbour and his team hiked from the highway to the avalanche starting zones on foot. They started using downhill ski gear (with Securafix touring adapters) a few years later. As alpine touring gear improved, the avalanche crews adopted it for their work. The Chinook Pass program is unique in its reliance on ski-assisted avalanche control work to support highway operations.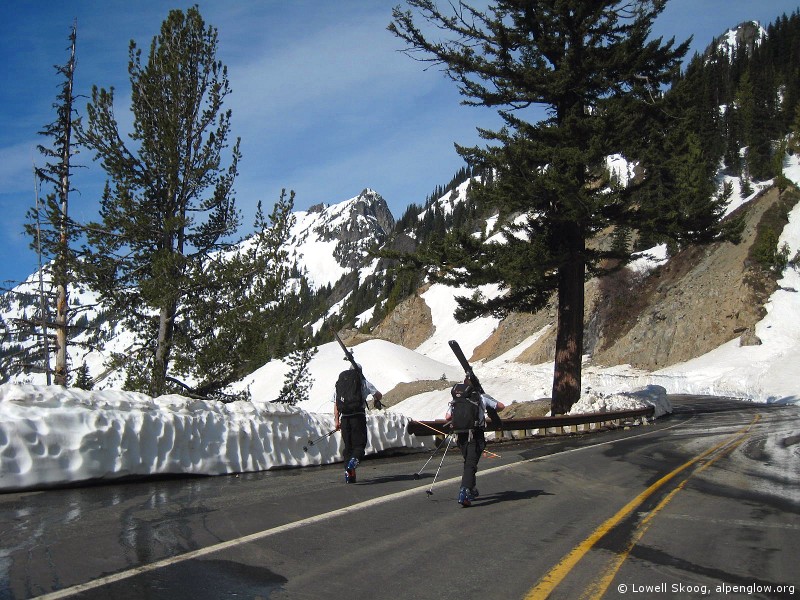 Aaron and John begin the climb to Knob 2.
---
Most of the avalanche control problems at Chinook Pass are east of the pass. There are three main starting zones, called Knob 1, Knob 2, and Knob 3. Knob 1 is a 6240ft peak about 1/2 mile north of Yakima Peak. Knob 2 is a point of similar elevation about 1/2 mile east of Deadwood Lakes. Knob 3 is a bumpy ridge around 6400ft elevation 1/2 mile SE of Sourdough Gap. The 6200ft+ shoulder just south of the ridge is called Picnic Point.
In April, as control work at Snoqualmie Pass tapers off, four people from the Snoqualmie Pass avalanche team move to the Chinook Pass clearing effort. John Stimberis is the supervisor of this team, assisted by Kevin Marston, Aaron Opp, and Lee Redden. On the day of my visit, John and Aaron were working from the east side of the pass (on Knobs 2 and 3) while Kevin and Lee were working from the west side (on Knob 1). At the 2008 ISSW, John
http://www.alpenglow.org/misc/2009/20090518-0016-john-stimberis-on-knob2.jpg" />
http://www.alpenglow.org/misc/2009/20090518-0043-teamwork.jpg" />
http://www.alpenglow.org/misc/2009/20090518-0035-john-stimberis-attaches-detcord.jpg" />
Thumbnails, from left (click to enlarge). One: John points out features on Knob 2. Two: Aaron buries a charge on the south face. Three: John rigs the fuse as Aaron buries another charge. Four: John connects detonating cord to an ANFO bag.
---
After preparing the shot, Aaron triggered it manually while John and I took video.  I was thankful for the earplugs that Aaron gave me, but concerned when my clothes and camera got showered by burned powder.  John said he's had trouble getting through airport security because his backpack is typically coated with a layer of explosive dust.  He's had to show the screeners his WSDOT identification and blasting license to convince them that he's not some sort of crazed bomb maker.
The Knob 2 shot had fairly minimal results, since the snow in this area has melted and consolidated a lot recently.  We packed up and did some ski cutting to the west, toward the Deadwood Lakes saddle.  Ski cutting is very effective to release surface instability in wet snow, enabling John and his teammates to work large areas quickly.
As we were returning to Knob 2, we watched Kevin and Lee set off a blast on Knob 1 using a timed trigger.  The buried shot triggered a wet slab that swept powerfully over the highway and descended all the way to the valley bottom.  I took a video of the slide, which you can
Highway 410 winds its way up the east flank of Chinook Pass.
---