September 29, 2019, squilchuck and mission ridge
It was absolutely nuking. First we went and skied some trees at squilchuck. That was very wet but also enjoyable. I'm not one to be picky about my snow in September. Probably about eight inches total. After squilchuck, we went up to mission ridge. Woah. Lots of snow falling. I measured close to 18 inches by chair two!!! Enjoy it everybody!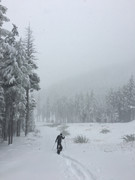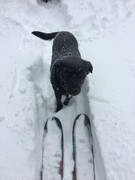 Fun to meet you in the parking lot, Anthony! What a treat to ski powder at the home hill in September! It was such a spectacular day, I ended up staying til 4:30.
I measured 21 inches at the top of chair 3. Tomorrow will be even better!