March 11-12, 2014, Rainier, Muir to Bridge Powder!
WA Cascades West Slopes South (Mt Rainier)
March 11, 2014, Mount Rainier, Camp Muir to Nisqually Bridge via Pebble Creek Gully: Smooth Untracked Snow, Mostly PowderMarch 12, 2014, Mount Rainier, Camp Muir to Nisqually Bridge via Pebble Creek NW Face: Powder, Proto-Corn, Windpack
Started writing a brief trip report on the evening of Tuesday, March 11, but it grew longer and I didn't finish it enough to post before sleeping and then heading back there again on Wednesday. And then I was too tired to write anymore the next evening, and then skied Crystal on Thursday too. So now that it's a rainy day, here's a belated and combined TR for both Rainier trips:
Summary:
Took advantage of the two nicest days in about 6 weeks to ski twice from Camp Muir to Nisqually Bridge via relatively avalanche-safe routes, in powder conditions for a good fraction of the runs especially on the first day, with some nice proto-corn snow too on steeper sunnier aspects especially on the second day. Mostly good to great ski conditions and absolute solitude during the ski descents too, I skied the entire 6200 vert from Muir to the bridge solo on Tuesday without needing to cross another track, and quite surprisingly (given the perfect weather and excellent snow conditions) was the only one to ski to the bridge that day. Even more surprisingly, my lone track was still untouched late the next afternoon, when our group of three was once again all alone on the entire magnificent descent of the Nisqually Glacier and riverbed out to the bridge. Outstanding!
All smiles after skiing untracked powder down a NW face to the Nisqually Glacier at 4pm on Wednesday March 12.
Also observed the remnants of a truly monstrous avalanche on the lower Nisqually Glacier, well up in the D5 class, a wet slab which occurred at least several days earlier and ran from somewhere above 10000 ft all the way down to 4900 ft below the present glacier terminus, with a path length of about 3 miles. Makes the March 10 Throne avalanche at Crystal Mountain look puny in comparison! More photos and a detailed comparison with that avalanche are below.

Three-shot panorama of Nisqually Glacier (left to center) and Nisqually Chute (right center), showing a small portion (!) of the path of the older massive wet slab avalanche down low and also newer serac-fall avalanche debris up high, taken from atop the NW face we skied on March 12. (click for double-size version)
Details:
March 11: Tuesday was forecast to be the nicest day at high elevations on Mount Rainier in about 6 weeks since February 1 (
Morning light on the Mountain above the Nisqually River at Longmire, March 12.
March 11: At Paradise the new snow was still very wintry too (loose, dry, powdery) in shaded areas when I headed up just before 11am, but already getting rapidly cooked most everywhere in the bright sunshine. A decent skin track was already in place given my late start, and it switchbacked nicely up Pan Face, with no signs of instability in the morning. As expected based on telemetry, stability appeared to be very good overall, the new snow (12-18" atop raincrust) was entirely right-side-up, falling at decreasing temps and winds after the changeover from rain to snow. Bond to raincrust appeared good when setting new skintrack on a couple of steep sunny rolls above Pan Point where the existing skin track went a sub-optimal way, not sliding out at all underfoot. Nothing really moved or slid that I saw all day, except several large serac falls in Nisqually Icefall.
Looking very wintry just above Paradise, March 11.
Regarding the issue of persistent deep slab instability: I've given it much thought over the past month, perhaps more than any other avalanche issue during the 18 years that I've been ski mountaineering, especially since skiing big open terrain is central to almost all of my trips including these two. I came to the conclusion that the likelihood of triggering that instability (and therefore most likely dying in the subsequent massive avalanche) on this terrain and this route during these days was minuscule, less than the likelihood of a fatal automobile accident on the drive from Seattle to Paradise. There's no possible way to quantify that avalanche hazard, but both of the worrisome persistent weak layers which produced recent massive explosive-triggered avalanches at Crystal Mountain 13 miles ENE of Mount Rainier (buried surface hoar at the late January crust, and depth hoar from early season at the ground) are less likely to exist in significant areas above Paradise to Camp Muir and down the Nisqually Glacier. The early season snowpack was deeper at Rainier than anywhere else in the Northwest, lessening the likelihood of depth hoar formation during the early December extreme cold snap, and the open above-treeline wind-exposed nature of almost all of this terrain lessened the likelihood of surface hoar formation atop the late January crust (despite being technically below-treeline on its lower portions, the entire Nisqually Glacier and uppermost riverbed behaves like wind-exposed above-treeline terrain due to the complete absence of trees and the frequent downslope katabatic winds during clear storm-free periods). In addition, the snowpack on the south side of Rainier is currently (and normally) about twice the depth of that at comparable elevations at Crystal Mountain, greatly decreasing the (already tiny) likelihood of skier-triggering of such instabilities. But despite all that, massive avalanches may still be possible on the south side of Rainier, as evidenced by the huge recent avalanche deposit on Nisqually Glacier.
Telephoto view from Panorama Face of Mount Hood framed between The Castle and Pinnacle Peak in the Tatoosh Range, March 11.
March 12: At Paradise the new snow was no longer very wintry, consolidated to a semi-supportable crust when we headed up in warm sunshine around 10:45am.
The previous day's nice skin track up Pan Face appeared from a distance to have been mostly destroyed by a maze of tracks of all types, and it was likely to be a frozen mess too due to yesterday's afternoon sun cooking it and today's morning sun not yet warming that WSW aspect. So I decided to set a new skin track up the south face of the SW ridge of Pan Point which gets sun exposure several hours earlier than Pan Face. Excellent skinning conditions on this 35-40° slope, 3-4" ski penetration in the sun-warmed snow, bonded perfectly to the subsurface with no slipping or sluffing. I used ski crampons just in case (not knowing what I'd find there), but it would have gone fine without them.
March 11: Above the rolls the mostly combined skin-snowshoe track continued all the way up to Camp Muir. Not very crowded today, maybe only 10-15 skiers and 1 very large RMI winter seminar group on snowshoes. Around 1:40pm there was a sudden huge roar from high on the Mountain, looked up to see a large serac-fall avalanche, among the few largest such avalanches that I've ever witnessed in 300+ days skiing on Rainier, originating near 12000 ft just west of Nisqually Cleaver and running out of sight down the Nisqually Glacier to about 8000 ft. Shot a minute of video starting just a few seconds after the avalanche began:

A large serac-fall avalanche from about 12000 ft on Nisqually Icefall, with part of the avalanche pouring over the edge of Nisqually Cleaver. View looking northwest from about 9200 ft on the Muir Snowfield, about 1.5 miles away. The voice is that of another onlooker, NOT mine. (click for YouTube video)
Arrived at Camp Muir around 2:20pm, in wonderful weather for late winter, bright sunshine, mostly calm but with occasional sudden cold NE gusts to 15-20 mph, temps around 25 °F.
March 12: Not very crowded today either, maybe less people than yesterday. A large group of snowshoers pulling sleds (some group which said they were training for pulling sleds, I did not ask which group or company) was in the process of totally destroying my nice skintrack from yesterday up one of the rolls above Pan Point, while making their own lives miserable on the steep sidehill as the sleds dragged them twisting downslope, and ignoring a much easier snowshoe track ideal for hauling sleds (straight up the fall line) which already existed only a few dozen yards west. I had put that skintrack in the only good, safe, easily-skinnable spot at this time on the entire short but very steep roll (varying from 40-70° along its length, with an increasingly hazardous avalanche slope farther to the right where the angle was least but it rolls over into upper Edith Creek Basin), and the best option was for me to recut the skintrack in the same spot through their mess, aided by the sharp teeth of the ski crampons. After that, the rest of the ascent was smooth skinning.
We would see only a handful of people the rest of the way to Muir, but an increasingly gusty westerly wind (20-30 mph in the windiest spots) made it a bit chilly at times, and had already mostly filled the combined skin-snowshoe track with windblown snow since the previous 3 skiers had skinned by perhaps a half-hour ahead of us.
Two-shot panorama of the wind-filled skintrack on the Muir Snowfield, March 12.
Arrived at Muir just before 2:30pm, and decided to hang out in the public shelter to get out the chilly wind, despite the sweet sunshine outside with temps close to 30 °F.
March 11: Skied down a bit after 3pm, starting down through the gap just west of the RMI hut to avoid crossing anyone else's tracks. It was variable dense windblown powder up high (mostly 2-8" deep), getting deeper at lower elevations. Stayed just to skier's right (west) of the other half-dozen tracks from earlier skiers all the way down the Muir Snowfield to stay on untracked snow.
Skiing untracked powder down from the ranger hut to avoid crossing any other tracks, March 11.
March 12: I noticed the door of the climbing ranger hut had been dug out and went over to chat, finding the RMI guides and park maintenance staff talking busily on the radio and looking through a spotting scope at an object lying in the snow far down the skier's right side of the Muir Snowfield. They had seen a skier descending that way hours earlier, and thought the object looked like a fallen body with 2 skis scattered on the slope below. I shot a maximum-zoom photo with my camera (Canon SX160 IS compact superzoom, 28-448 mm) and thought it looked like a rock, but couldn't tell for sure on the LCD display. They were worried enough that they were considering sending a guide down with a trauma kit to investigate just in case, but I ended up being volunteered for the task since we were skiing that way anyway, with instructions to wave and jump if we actually found a person lying there.
We skied down at 3:15pm after that delay, finding the snow conditions much worse than yesterday's powder on the upper Muir Snowfield, as several hours of the gusty west winds had hammered the powder into a patchwork of easily-breakable windcrust and smooth nice windpack. It wasn't terrible skiing, but required constant attention and weight back to avoid face-planting. Conditions improved significantly with more consistent snow as we neared 8500 ft and approached the object of so much speculation and interest, which turned out to be a rock as we all hoped.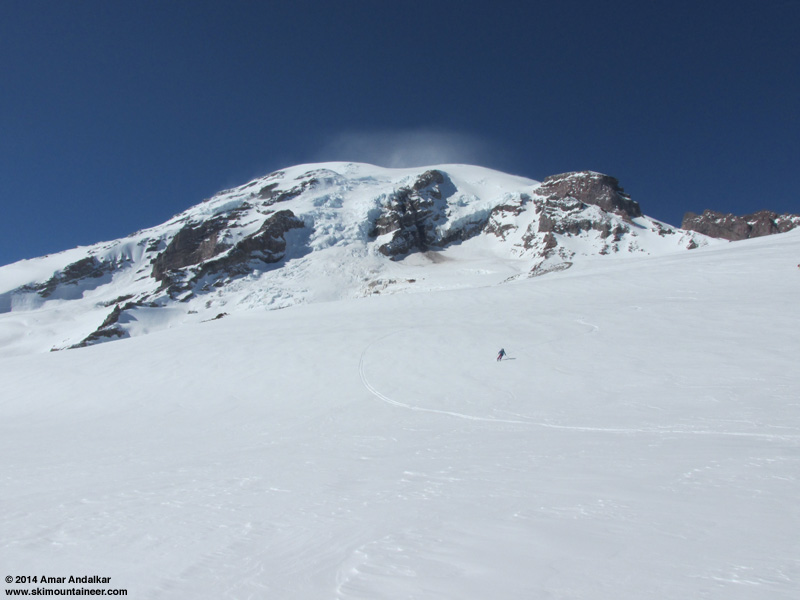 An incipient lenticular cloud forming on the summit as we skied down the Muir Snowfield, March 12.
March 11: I really wanted to ski out to Nisqually Bridge to get the awesome views from the lower Nisqually Glacier and the free extra vertical, but attempting Nisqually Chute on this day was beyond my risk tolerance, solo or not. No one else had headed that way either yet this day. Pebble Creek Gully offers a safer and less steep access down to the Nisqually, with the major advantage that it faces west and northwest, thus greatly reducing the effects of the sun and also delaying them by several hours relative to the mostly south-facing and steeper Nisqually Chute. Still nice dense powder on these west and northwest aspects, with adjacent slopes facing slightly more SW already covered in lots of small rollers.
March 12: The lower portion of the Muir Snowfield to Pebble Creek was great skiing, smooth sun-softened snow with proto-corn on steeper south-facing rolls, and still some powder along the northwest sides of the rolls too.
There's a nice northwest-facing slope just south of Pebble Creek, which I'd been reluctant to ski the previous day solo given its greater steepness and the possibility of it being cross-loaded by southwesterly storm winds channeling up the Nisqually Glacier. It looked too good to pass up this day, and it delivered the goods: about 600 vert of smooth untracked powder down to the Nisqually Moraine at 6300 ft, not sun-affected despite 2 days of strong sunshine due to the very oblique solar angle on this slope.
March 11: Lots of small rollers on steep solar aspects, and some fairly large natural wet surface sluffs had occurred earlier in the day on SW slopes over 40°, including down all entrances of Nisqually Chute and several adjacent slopes (even though some ran 500-2000 vert, none of them appeared to entrain the entire depth of new snow).
A bit more powder on a west aspect down Nisqually Moraine to the glacier, March 11.
March 12: There were no new wet sluffs (nor any ski tracks) visible down Nisqually Chute since yesterday, but the sunny SW slope to its south had several new wet sluffs triggered from the rocks at the top and extending down to the flats. Once again, none were deep or dangerous looking.

Four-shot panorama of Nisqually Glacier (left to center), Nisqually Chute (right center), and Pebble Creek Gully (right), taken from Nisqually Moraine on March 12. (click for triple-size version)
(Continued in next post due to TAY's 20,000 character limit per post.)