June 6, 2012, Rainier, Muir Sunset Powder Whiteout
WA Cascades West Slopes South (Mt Rainier)
A last-minute, afternoon decision to drive to Rainier and head up to Muir, which turned out to be outstanding! Excellent snow conditions, with smooth windpack above the cloud deck, several inches of new powder (but intense whiteout) within the cloud deck, and fairly smooth non-sticky snow below the clouds.
(photo by HC)
A strong, cold early-June storm system brought 2" of new snow officially to Paradise and about a foot of new snow above 7000 ft on June 4-5. The weather forecast for Wednesday looked like the best day of the week, but was still marginal to poor, saying "mostly cloudy" as of the day before, and I had no plans to go skiing despite some other friends wanting to go. Then Wednesday morning grew much sunnier than expected in Seattle, and looking at the Camp Muir telemetry revealed that it was in bright sunshine, above the clouds which obscured the view of the Mountain from Paradise. The morning's still-in-progress run of the UW model offered hope that the clouds might dissipate substantially by 8pm or so (specifically the 1.33km cloud water, http://www.atmos.washington.edu/~ovens/wxloop.cgi?mm5d4_intcld+2012060612//84/3, see 5-8-11pm). Sunset was at 9:04 pm, and I thought a sunset ski above the dissipating clouds might be totally amazing, but didn't really want to go solo. Luckily Hannah decided to join me and it was almost 2pm before we left town to drive to Rainier.
(photo by HC)
We caught a few glimpses of the upper Mountain above the clouds during the drive, including Point Success from Kautz Creek, but it was thoroughly clouded over at Paradise as expected. Skinned up from Paradise at 4:45pm, with drifts of several inches of new snow in spots right beside the parking lot. Reached the bottom of the cloud deck around 6400 ft at the base of Panorama Point, and skinned up the face into the clouds on a patchwork mix of grey old snow and white new snow, with ski crampons helpful. Another group of three skiers, the only other skiers we would see this day, was struggling to ascend the face, even after they transitioned to booting.
Above the face, the route around to the left is once again continuous snow (just barely) due to the recent snowfall, but very thin at a couple spots near 6800 ft and 7000 ft. As we gained the bottom of the Muir Snowfield via Pebble Creek, the whiteout grew intense and disorienting as all rock features were left behind. Even though we had each been to Muir well over 100 times and knew the route very well, we were thankful this time to have a wide wanded bootpack to skin up near, and I ran a GPS track too just in case.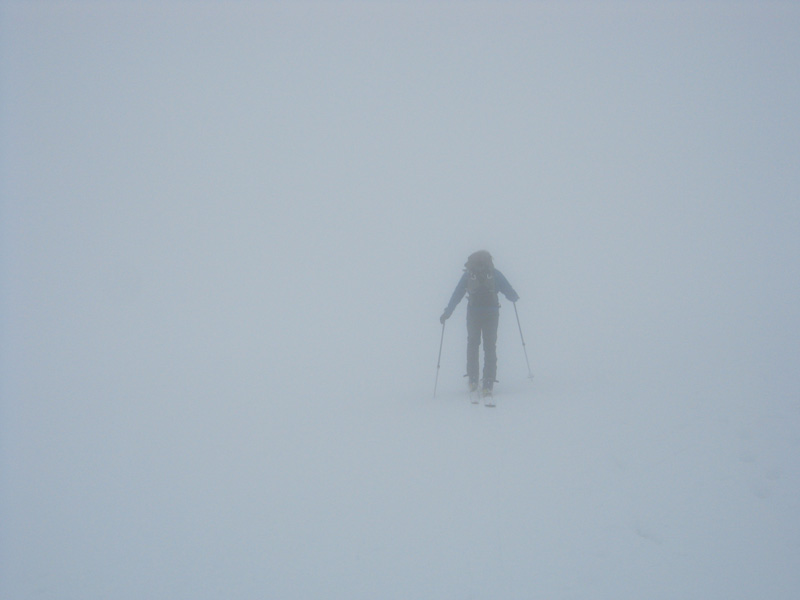 (photo by HC)
Several times, it grew much brighter within the clouds and offered hope that we were just about to break out above the cloud deck, but then darkened again. Some descending climbers had told us that the top of the cloud deck was at about 9000 ft, while others said it had risen almost to Camp Muir. Winds were very light within the cloud deck, but just enough to grow rime feathers along our left sides and the backs of our packs. There was even some light snowfall at times.
We finally broke out of the clouds around 7:30pm near 9400 ft. It was such a relief after skinning for 2 hours and 3000 vertical ft in the whiteout, which is among the most whiteout I've ever endured on any trip to Muir. The clouds kept rising and falling a couple more times along the last bit to Muir, but never rose high enough to blanket the camp.
(photo by HC)
It was colder and windier above the cloud deck, quite chilly in the shadow with the sun already tucked behind the edge of the Mountain, despite a temperature near 30 °F. Reached Muir at 8pm as planned, and headed into the public shelter to get out of the cold 15-20 mph breeze. Fairly full in there for a midweek day, and about a dozen tents outside too. We felt sorry for all the climbers planning to try for the summit the next couple days, given that the forecast called for another strong storm system arriving after midnight with 1-2" more of precip and fairly high winds.
Zoomed view of Mount Adams, looking very wintry and white for June.
It was just stunningly beautiful as always above the cloud deck, the full "sea of clouds" effect with only the distant island summits of Mounts Adams, Hood, and Saint Helens (barely) extending into the sunshine. We skied down at 8:20pm, on nice smooth windpack, very carveable and some good turns.
We dropped back into the cloud deck near 9300 ft, and the whiteout was again intense, it was hard to maintain balance and even stand still upright at times. We tried skiing beside the bootpack, but that was just too disorienting. Eventually the best tactic was to make turns in the clean snow on either side of the bootpack, connected by quick straightlines angling across the soft bootpack, which gave the best combination of decent skiing and a continuous visual reference of up-versus-down. The snow was several inches of nice powder from 9000 ft down to 7000 ft, and it would have been amazing skiing if the clouds had cleared enough to ski untracked snow away from the bootpack. It was still pretty good as it was, not bad at any time.
It was again a relief to descend safely out the bottom of the cloud deck near 6300 ft, and a quick cruise on surprisingly non-sticky snow (a mix of old snow partially smoothed with a few inches of wet settled new snow) brought us back to the parking lot by 9:10pm, with plenty of twilight to spare. We cruised down a large drift of new snow several inches deep which extended right to the edge of the pavement.
During the drive out of the park, the clouds finally did dissipate substantially, and by 10pm the views of the Mountain from Longmire and Kautz Creek were almost entirely clear, although a bank of remnant clouds appeared to be lingering along the Muir Snowfield. The UW model had been right in showing the clouds dissipating, but the timing was perhaps 2-3 hours off (getting the timing precisely correct is very difficult for numerical weather models).
Looking for late-night dining options along the all-too-familiar Rainier-Seattle drive, we arrived at The Ram at South Hill Mall somewhat after 11pm, but luckily they were open until midnight in the bar and still serving a full menu including happy hour food and beer. An excellent way to finish off a stellar evening of skiing June powder and whiteout.
---
[tt]MOUNT RAINIER RECREATIONAL FORECAST
NATIONAL WEATHER SERVICE SEATTLE WA
400 AM PDT WED JUN 6 2012
SYNOPSIS...A WEAK UPPER RIDGE WILL MOVE INTO THE REGION TODAY FOR A PARTLY SUNNY DAY WITH LIGHT SCATTERED SHOWERS. A COLD FRONT WILL BRING STEADY PRECIPITATION TO MOUNT RAINIER NATIONAL PARK LATE TONIGHT AND THURSDAY. THE SNOW LEVEL WILL BE AROUND 6500 FEET...WITH HEAVY RAIN AT PARADISE AND SUNRISE AND UP TO A FOOT OF SNOW ON THE HIGHER SLOPES OF THE MOUNTAIN. COOL SHOWERY WEATHER WILL PREVAIL THURSDAY NIGHT AND FRIDAY AS THE SNOW LEVEL FALLS TO AROUND 4500 FEET BEHIND THE FRONT...AND SEVERAL INCHES OF ADDITIONAL SNOW WILL FALL OVER THE HIGHER TERRAIN. SOME SHOWERS AND COOL WEATHER WILL CONTINUE SATURDAY...BUT DRIER AND WARMER WEATHER IS LIKELY SUNDAY THROUGH EARLY NEXT WEEK.
WEDNESDAY...PARTLY SUNNY WITH SCATTERED SHOWERS. SNOW LEVEL 4000 FEET.
WEDNESDAY NIGHT...MOSTLY CLOUDY. A CHANCE OF SHOWERS IN THE EVENING...THEN A CHANCE OF RAIN AND SNOW AFTER MIDNIGHT. SNOW LEVEL 6000 FEET.
THURSDAY...RAIN AND SNOW...HEAVY AT TIMES. SNOW LEVEL 6500 FEET.
THURSDAY NIGHT...SHOWERS. SNOW LEVEL 5500 FEET.
FRIDAY...SHOWERS. SNOW LEVEL 4500 FEET.
TEMPERATURE AND WIND FORECASTS FOR SELECTED LOCATIONS.
                       WED    WED    THU    THU    FRI 
                            NIGHT         NIGHT       
SUMMIT   (14411 FT)      8     10      5      1     -4
                     NW 35  SW 35  SW 35  SW 25  SW 15
CAMP MUIR(10188 FT)     19     24     21     15     13
                      W 25  SW 30  SW 35  SW 25  SW 15
PARADISE  (5420 FT)     43     34     42     30     38
                     SW 15  SW 15  SW 15   W 10   W 10
LONGMIRE  (2700 FT)     50     41     51     39     48
                      W 10  SW 10  SE 10  NW  5  NE  5
++ TEMPERATURES AND WIND FOR THE SUMMIT AND CAMP MUIR ARE AVERAGE
   CONDITIONS EXPECTED IN THE FREE AIR AT THOSE ELEVATIONS.
++ TEMPERATURES FOR PARADISE AND LONGMIRE ARE THE EXPECTED HIGHS AND
   LOWS. WIND IS THE AVERAGE WIND EXPECTED DURING THAT PERIOD.
EXTENDED FORECAST...
FRIDAY NIGHT...SHOWERS LIKELY. SNOW LEVEL 4500 FEET.
SATURDAY...MOSTLY CLOUDY WITH A CHANCE OF SHOWERS. SNOW LEVEL 4500 FEET.
SATURDAY NIGHT...MOSTLY CLOUDY WITH A CHANCE OF SHOWERS. SNOW LEVEL 5500 FEET.
SUNDAY...MOSTLY CLOUDY. A CHANCE OF SHOWERS. SNOW LEVEL 6000 FEET.
SUNDAY NIGHT...MOSTLY CLOUDY. A CHANCE OF SHOWERS. SNOW LEVEL 8500 FEET.
MONDAY...MOSTLY CLOUDY. A CHANCE OF SHOWERS. SNOW LEVEL 8500 FEET.
MONDAY NIGHT...MOSTLY CLOUDY. A CHANCE OF SHOWERS. SNOW LEVEL 9000 FEET.
TUESDAY...PARTLY SUNNY. A CHANCE OF SHOWERS. SNOW LEVEL 7500 FEET.
[/tt]
Sweet last minute descision! Sounds like something our crew would do! So was that runway of snow to Paradise parking lot the last of the snow to be skied to the lot?
---