Dec 1, 2011, Mt Rainier, Muir and Flying Jellyfish
WA Cascades West Slopes South (Mt Rainier)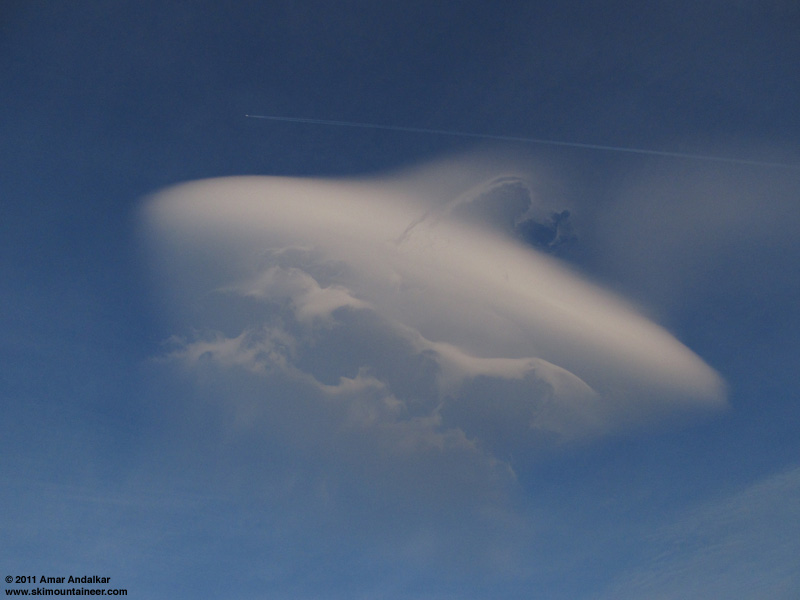 Having just enjoyed a scenic day skiing from Muir on Monday (
Snow conditions had changed a lot since Monday, as about 5" of new snow had fallen overnight Tuesday into Wednesday, and a period of strong winds had occurred. Things were much better on some parts of the route, worse on other parts:
*** Down low, Paradise to 6500 ft: Similar, but slightly worse. The new snow had covered Monday's light powder, but the sun had already made it heavy and slightly crusty in spots by the time I skied down.
*** Mid elevations, 6500-7500 ft: Worse, much worse in spots. The sun and warmth made for fiendishly difficult skinning up Pan Face, as my skins were glopping as bad as they ever have despite preemptively applying skin wax at the base of the slope. Ski crampons which I thought might be needed to negotiate the thin 1-4" of snow atop the frozen crust only made the glopping even worse. No way I could skin like this:
That snow was solidly attached to the skins, it needed a scraper to remove. I was forced to bootpack from 6600-7100 ft, one of the very few times I have not been able to skin the whole way up Pan Face in the past several years.
It was extremely wind scoured near Panorama Point and Pebble Creek, probably from Tuesday evening when telemetry shows winds over 80 mph at Muir. Large areas of bare blue ice had been exposed near Pebble Creek, with old raised skin tracks exposed on some slopes just above Pan Point atop the frozen rain crust:
*** Lower part of Snowfield, 7500-8500 ft: Similar, but not quite as good. Firm windpacked powder above 7500 ft, it was softer windpacked powder on Monday.
*** Up high, above 8500 ft: MUCH BETTER, surprisingly so. The old rain crust which had covered nearly 100% of the terrain above 9500 ft and about 50% above 8500 ft on Monday was now almost entirely covered in new snow, with only a few scattered outcrops of the crust. This coverage was aided by the northerly wind (the rarest of wind directions on Rainier) which was bringing even more snow from high on the Mountain and depositing it onto the upper Muir Snowfield. Ski crampons were essential up high on Monday, but not really needed at all on Thursday (even though I put them on just in case, based on Monday's experience).
Telephoto image of lenticulars on Mount Adams.
Took much longer for me to reach Muir this day, about 40 minutes more than Monday, mostly due to difficult skinning conditions near Pan Point. Saw only one other person above Pan Point, a lone skier descending around 1pm, having lost his hat to strong gusts at his turnaround point near Moon Rocks. Luckily for me, the occasional strong northerly gusts were interspersed with longer periods of near-calm, otherwise skinning up into that headwind would have been miserable.
Skied down a little after 3pm, while skies were still mostly obscured by high clouds which had thickened throughout the day. And then in the space of 5 minutes at 3:30pm as I neared Pebble Creek, the high clouds vanished and the Mountain was once again bathed in glorious slanting light and crowned by clear blue skies.
Two-shot panorama, looking up from just above Pebble Creek as skies cleared.
Large area of exposed blue ice at Pebble Creek, this was totally snow covered on Monday (see photo in that TR).
A huge alien jellyfish now hovered overhead in the skies just east of Paradise, a beautiful and complex lee wave cloud produced by the rare northerly upper-level winds. Pan Face skied OK, with carveable heavy snow, but not sweet untracked powder like Monday.
Once again I decided to linger a bit and extend the ski descent closer to sunset, although I could tell that it would not be quite as photogenic a sunset as Monday's had been.
Arrived back at the deserted parking lot just as the last rays of the sun lit the flying jellyfish:
Just another magnificent day on the Mountain.
---
[tt]MOUNT RAINIER RECREATIONAL FORECAST
NATIONAL WEATHER SERVICE SEATTLE WA
321 AM PST THU DEC 1 2011
SYNOPSIS...STRONG HIGH PRESSURE IS OVER THE REGION TODAY. A FRONT WILL BRUSH WESTERN WASHINGTON TONIGHT. STRONG HIGH PRESSURE WILL PERSIST SATURDAY THROUGH MONDAY. THE WEATHER PATTERN WILL LIKELY CHANGE AND BECOME MORE UNSETTLED AROUND THE MIDDLE OF NEXT WEEK.
THURSDAY...SUNNY. FREEZING LEVEL 7000 FEET.
THURSDAY NIGHT...PARTLY CLOUDY IN THE EVENING THEN BECOMING MOSTLY CLOUDY. FREEZING LEVEL 6000 FEET.
FRIDAY...MOSTLY SUNNY. FREEZING LEVEL 3000 FEET.
FRIDAY NIGHT...MOSTLY CLEAR. FREEZING LEVEL 3500 FEET.
SATURDAY...SUNNY. FREEZING LEVEL 4500 FEET.
SATURDAY NIGHT THROUGH SUNDAY NIGHT...MOSTLY CLEAR. FREEZING LEVEL 6000 FEET.
MONDAY AND MONDAY NIGHT...PARTLY CLOUDY. FREEZING LEVEL 8000 FEET.
TUESDAY THROUGH WEDNESDAY...MOSTLY CLOUDY. A CHANCE OF SHOWERS. SNOW LEVEL 4000 FEET FALLING TO 1000 FEET.
TEMPERATURE AND WIND FORECASTS FOR SELECTED LOCATIONS.
                       THU    THU    FRI    FRI    SAT 
                            NIGHT         NIGHT       
SUMMIT   (14411 FT)     11     10      9      8      6
                     NW 41  NW 72   N 65   N 46   N 25
CAMP MUIR(10188 FT)     26     24     22     22     24
                     NW 29  NW 55   N 34   N 17   N 13
PARADISE  (5420 FT)     35     25     32     27     36
                     NE  5  SW  9   S  6  NE  4   W  2
LONGMIRE  (2700 FT)     36     29     35     27     38
                     NE  4   W  8  SE  6  NE  3  NE  2
[/tt]