April 21, 2008, Crystal Mtn and Kempers
WA Cascades West Slopes South (Mt Rainier)
Hannah and I went to the closed Crystal Mtn ski area on Monday, looking for some light dry powder. The weather was a mix of sunshine and clouds and snowfall throughout the day. In the morning there was 2-6" of light powder all the way down to the parking lot, but it was rapidly consolidating in the sunshine, creating sticky snow which demanded skin wax to prevent glopping. Left the parking lot at 10am, skinned up breaking trail to the summit restaurant with a few spectacular views of The Mountain encased in swirling clouds and mist, and took a 1000 ft run down into Green Valley at noon. Decent powder on this mostly NE aspect, but nothing spectacular, and the sunniest areas were getting heavy. Time to look for better options.
Hannah carving up Green Valley.
On the way up we had spied the smooth, totally untracked, and very inviting NW facing slope on Silver Queen, known as Kempers and located to skier's left of Powder Bowl. This is a very hazardous avalanche starting zone and avalanche chute at times, located in MRNP with access illegal from the lifts when they are operating.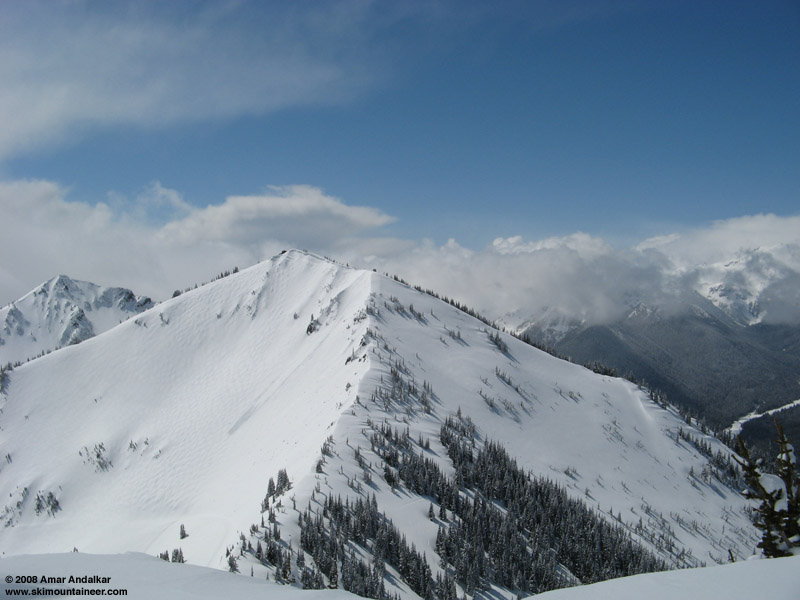 View of Powder Bowl (left) and the still-untracked Kempers (right).
We skinned up the ridge from Powder Pass, finding 4-12" of very light unconsolidated powder atop a solid crust. This made skinning in switchbacks up the steep 40+ degree slope very difficult, but it was nearly ideal for putting in a boot pack since the crust was mostly boot-penetrable. We skied two runs of 1400-1500 vertical from the top of Silver Queen down Kempers, in excellent calf-deep light powder atop the frozen crust, and booted back to the top each time. As expected, the unconsolidated powder on a mostly-shaded NW aspect was very stable atop the firm crust, and no sluffs or other activity occurred.
Booting up in calf-deep powder on Kempers.
Hannah carving up Kempers. Sorry, no better ski photos on Kempers.
Our final run was down Powder Bowl just before 6pm, with 0-12" of light powder on the N/NE aspect atop a base of large frozen crusty moguls, making for less than ideal skiing. Down below, Lucky Shot and the other flat runs had crusted over completely after a day of on-and-off sun followed by cooling, with a few areas of breakable crust and most areas a solidly frozen but still quite skiable crust.
Overall, an excellent day due to the 2 stellar runs down Kempers. Despite our very relaxed pace, the total for the day was a surprising 6800 vertical feet, split into about 3400 each of skinning and booting for the ascent. Ski conditions summary for the area: excellent powder on steeper shaded N and NW aspects, heavier powder on NE aspects, also a few bits of powder left in well-shaded areas in the trees, and almost everything else now has a sun crust.
Thanks for the snow info Amar.  It is helpful in deciding where to ski today.

It is good to see that you and Hannah are out enjoying winter's reprieve.
---
---
---